Principal's Desk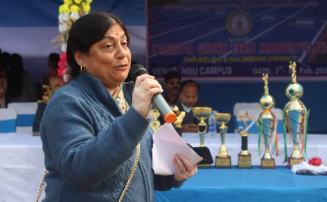 At this juncture, just before our 1st year college admission, when I am penning a few lines from the Principal's Desk, I just can't shut my mind from the fact that this year is very different and very difficult. The COVID-19 pandemic has overwhelmed the entire world and India also has borne the brunt of the same. The spread of the virus is so colossal that the only way to control and defeat this mammoth pandemic is to make people follow social distancing and also to restrain them from moving out to avoid social connect. This is a very crucial period, with the weakening of the socio-economic system, there is a call for everyone to act socially more responsible and adhere to our duties as part of our society.
The pandemic has significantly disrupted the education sector. As the days pass by with no immediate solution to the outbreak of COVID-19, the closures of schools, colleges and universities will engender far reaching economic and social consequences. The structure of learning, including teaching and assessment methodologies was the first to be affected by the closures.
This disruption in the delivery of education is pushing policy makers to figure out how to drive engagement at scale while ensuring inclusive e-learning solutions and tackling the digital divide and how to seamlessly integrate classroom learning modes with e-learning modes. So, while I am welcoming young boys and girls who are crossing the threshold of school to enter the college, I would say the challenge this year would be, all the more to overcome all limitations and try to achieve the utmost to make life more meaningful.
I hope the college will empower our students to spread the light of knowledge, harmony and equality in all spheres of life. Our college Kalipada Ghosh Tarai Mahavidyalaya, popularly known as Bagdogra College which began very humbly in a tiny tin roofed two roomed make shift construction in the year 1988 as a Commerce college without a single substantive teacher has grown over the years to have Seventeen Departments in Humanities, Commerce and Science. The college owes a lot to its committed teaching and non-teaching staff whose tireless work and selfless involvement in academic and other activities have helped the college to grow to what it is now. In this time of crisis a well rounded and effective educational practice is what we are striving for the capacity building of young minds. It will develop skills that will drive their employability, productivity, health and well being in the decades to come and ensure the overall progress. We have to cross several miles more and as our college motto says "Tamso Ma Jyotirgamaya", we will forever strive to eradicate all forms of darkness.
Dr. Minakshi Chakraborty,
M.A. Ph.D. Principal, KGTM